Windows Server 2022
The official release of Windows Server 2022 is the Long-term Servicing Channel version, which includes five years of circulation and subsequent five years of extended support. Upgraded from Windows Server 2019, Windows Server 2022 is integrated with multi-layered security features. Windows Server 2022 has Azure hybrid capabilities, providing a flexible environment for application modernization.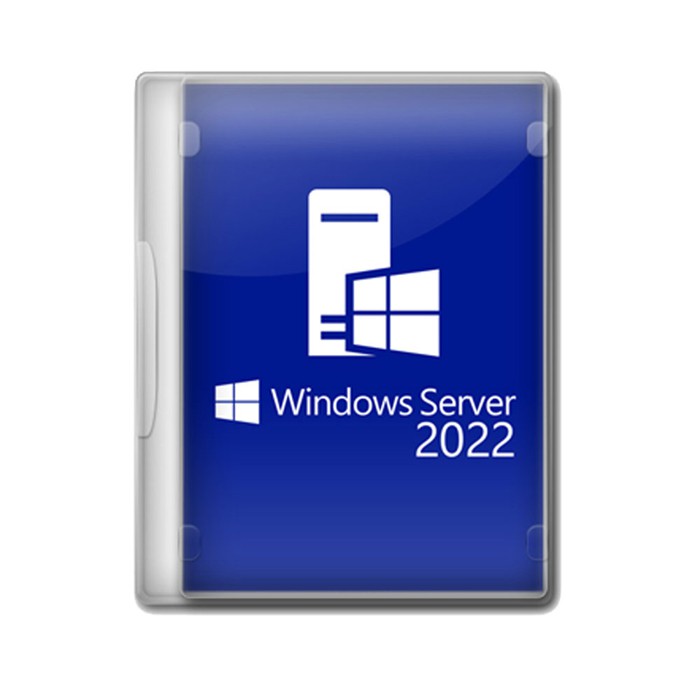 In the context of technology development, information security becomes a paramount issue for businesses. Security threats and the impact of incident escalations are increasing day by day. Windows Server 2022 operating system was launched to become the best solution for users in information security protection, focusing on strengthening the safety of many layers, core parts, and other types of connections.
Windows Server 2022 Standard is the new leading server operating system, and it has several unique features that will make your business thrive. Not only does Windows Server 2022 offer fast performance as a reliable workhorse for all types of businesses, but also offers specific benefits to industries, too.
About Windows Server 2022 Standard Key Global
This is a brand new genuine cd key for Microsoft Windows Server 2022 Standard
Purchase for 1 PC
Lifetime license
Key can activate both 64bit and 32bit
This product requires you to have installed the Windows Server 2022 Standard System already on your computer in order to activate it.

What's new in Windows Server 2022?
Built on the strong base of Windows Server 2019, Windows Server 2022 ushers many fresh features on three key themes: security, application platform, and Azure hybrid integration and management.
Windows Server 2022 – A Business Oriented Software Solution
Security
Today, servers need comprehensive protection, and advanced multi-layer security in Windows Server 2022 provides the same. The new security capabilities of Windows Server 2022 provide defense-in-depth protection against advanced threats by combining other security capabilities in Windows Server through multiple areas.

Azure Hybrid Capabilities
Windows Server 2022 comes with built-in hybrid capabilities that help you increase your agility and efficiency, which ultimately eases the process of extending datacenters to Azure. Azure Arc enabled servers with this server version bring multi-cloud and on-premises Windows Servers to Azure with Azure Arc.
Application Platform
Windows Server 2022 introduces various platform improvements for Windows Containers, like Windows Containers' experience with Kubernetes and application compatibility. One of its major improvements includes bringing down the Windows Container image size by up to 40%, resulting in up to 30% faster startup time and better performance.
Storage
Windows Server 2022 enhances Storage Migration Services, making it easier to migrate the storage to Azure or Windows Server from more source locations. Another new feature in this version is – User adjustable storage repair speed that offers more control over the data resync process.
An Exceptional Experience
Secured-core server
Certified Secured-core server hardware from an OEM partner offers additional security protections to fight against sophisticated attacks. This can provide increased assurance while handling mission-critical data in some of the most data-sensitive industries.

Hardware root-of-trust
Trusted Platform Module 2.0 (abbreviated as TPM 2.0) secure crypto-processor chips provide a guarded, hardware-based store for sensitive cryptographic keys and data, including systems integrity measurements.
Firmware protection
Firmware is often invisible to traditional anti-virus solutions, resulting in an increase in the number of firmware-based attacks. Dynamic Root of Trust for Measurement (DRTM) enables secured-core server processors to support boot processes' measurement and verification. With Direct Memory Access (DMA) protection, it supports isolation of driver access to memory.
Virtualization-based security (VBS)
Secured-core servers support hypervisor-based code integrity (HVCI) and virtualization-based security (VBS). Using hardware virtualization features, VBS creates and isolates memory's secure region from the normal OS, securing against an entire class of vulnerabilities used in cryptocurrency mining attacks.
Networking Performance
UDP Performance Enhancements
UDP is becoming a very well-liked protocol carrying more and more network traffic. Windows Server 2022 has the UDP Segmentation Offload (USO), which shifts most of the work required in sending UDP packets to the specialized hardware of the network adapter from the CPU.

TCP Performance Enhancements
Windows Server 2022 uses RACK to reduce Retransmit TimeOuts (RTO) and TCP HyStart++ to decrease packet loss during connection start-up. In the transport stack, these features are enabled by default. They provide a more flawless network data flow with increased performance at high speeds.
Hyper-V Virtual Switch Enhancements
Hyper-V virtual switches have been improved with updated Receive Segment Coalescing (RSC), which allows the hypervisor network to process as one larger segment by coalescing packets. The segments will remain coalesced across the entire data path until they are pr
Minimum system requirements remain the same:
1.4 GHz 64-bit processor
Compatible with x64 instruction set
Supports NX and DEP
Supports CMPXCHG16b, LAHF/SAHF and PrefetchW
Supports Second Level Address Translation (EPT or NPT)
512 MB (2 GB for Server with Desktop Experience installation option)
ECC (Error Correcting Code) type or similar technology, for physical host deployments
An Ethernet adapter capable of at least 1 gigabit per second throughput
Compliant with the PCI Express architecture specification
UEFI 2.3.1c-based system and firmware that supports secure boot
Trusted Platform Module 2.0